Product Overview
The Gold Digger is a 4-channel mic selector that enables the engineer to quickly compare the sound of four different microphones while sharing the same preamp. A 'straight wire' passive circuit design is void of any audio buffers or transformers. Instead, the Gold Digger employs military grade gold contact relays to manage the switching process, thus ensuring the pristine mic signal is maintained without introducing color, distortion or artefact of any kind.
Four selectable inputs with trim adjusts
Straight wire distortion-free signal path
Will not introduce color or artifact
Increases artist's confidence when recording
Features include four rear-mounted XLR-F mic inputs plus an XLR-m output to feed the preamp. To eliminate bleed between microphones, each channel is equipped with a 'radio style' selector switch that ensures only one mic is on at a time. The external supply provides power for the LED indicators, charges the relays and enables the Gold Digger to generate 48 volt phantom which can be turned on or off for each mic as needed. To ensure an 'honest' comparison between microphones, individual 'set & forget' trim controls let you adjust each mic level so that they produce the same relative output. Once set up, the Gold Digger not only improves workflow, but also gives the artist more confidence with the sound of the vocal, resulting in a better overall performance.

The Gold Digger – A tool designed to get the very best out of each and every performance.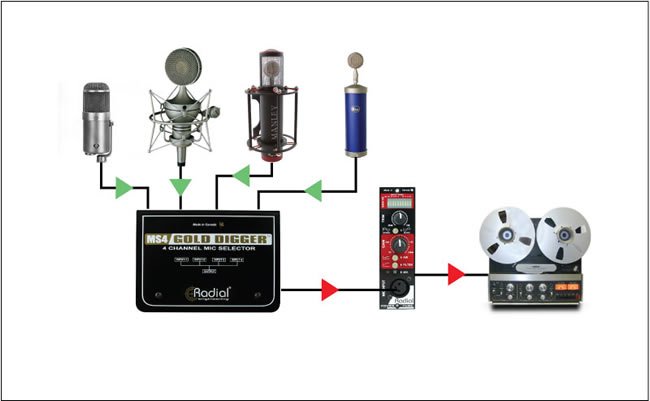 Comparing Four Studio Condenser Mics
The Gold Digger lets you quickly compare the sound of four microphones and send the signal to the same preamp. This assures an 'honest' comparison as all mic signals employ the same audio path. Separate 48V on-off switches let you activate phantom as needed.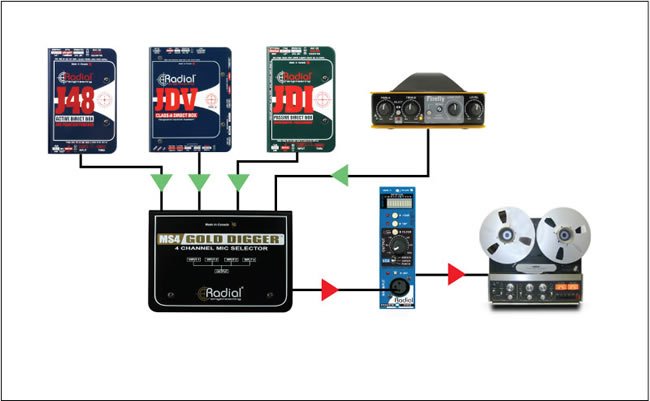 Comparing Various Direct Boxes
Comparing DI boxes can often lead to surprising results. Often, one will use an active DI like the J48 only to find that a passive one like the JDI could in some instances sound better. Plug in the four DIs just like you would a microphone and you are set to go.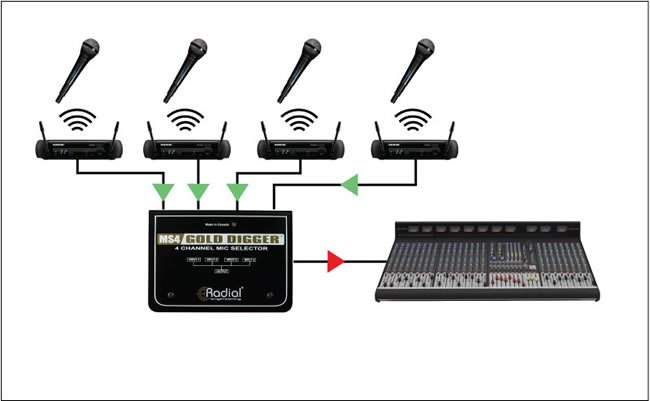 Selecting a wireless system
The Gold Digger can also be used in live touring where you may want to direct as many as four different wireless systems to a single audio input channel in the PA system. This could be 4 mics in a house of worship, 4 wireless guitars, or maybe a couple of mics in a town-hall meeting.
Reviews