Product Overview
The 4-Play™ is a multi-channel direct box that has been specifically developed for multi-instrumentalists to enable them to quickly change instruments on stage, without disrupting the audio engineer or creating a mess of cable spaghetti to contend with.

It works like this: Mute your guitar using the mute footswitch. Then, disconnect your guitar and reconnect your mandolin. Hit the output selector footswitch to advance the output from 1 to 2 and then turn the audio back on by hitting the mute footswitch again. It's that easy. Super-bright LED status indicators tell you which output is active, further simplifying the changeover process.

There are four balanced DI outputs. Each one is equipped with a ground lift switch to eliminate hum and buzz caused by ground loops. With four outputs, each instrument has its own dedicated channel in the PA and monitors. This way, each instrument can be set with its own level, specific EQ and with whatever effects may need to be applied. Best of all, the engineer does not have to contend with the switch-overs on stage as only one output is active at any one time. This eliminates frantic hand signals and the need to coordinate muting and unmuting audio channels at the monitor desk or front of house. A dedicated tuner output is always on to allow quick on-the-fly adjustments or to tune between songs. Built Radial tough, the 4-Play is made from heavy 14-gauge steel for added rigidity and greater immunity against stray magnetic fields.

The Radial 4-Play… made to handle the action on a busy stage!
Quick change-over DI for multi-instrumentalists
Switch between four outputs using a single footswitch
Four DI outputs for control over each instrument
Ground lift switches to eliminate hum and buzz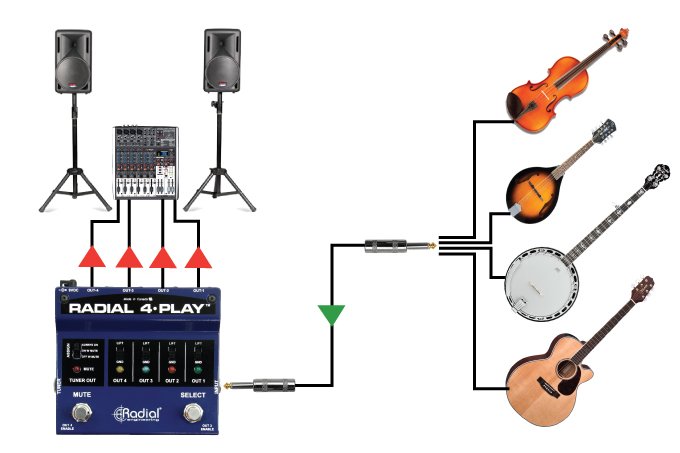 Acoustic, fiddle, mandolin and banjo

Switch between instruments by simply muting, disconnecting the instrument, reconnecting and unmuting. The 4-Play lets you drive each instrument to its own channel in the PA. Connect using a simple guitar cable or use your wireless system!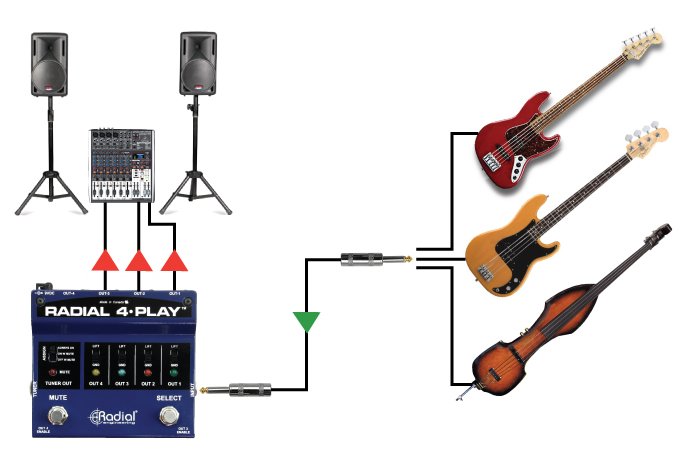 Using three different basses on stage

No amp, three basses – The 4-Play makes it easy! Connect the desired bass, use the selector switch to send the output to the desired channel in the PA system. This lets you optimize the signal without having to adjust the tone or level during each changeover.



Using multiple instruments and one stage amp

The 4-Play lets you switch between instruments easily, allowing each one to feed a dedicated channel in the PA. Use the tuner output to connect a stage amp. The mute switch allows you to cut the feed to the amp when swapping instruments.
Reviews