Product Overview
MOOER has entered into the realm of portable multi-effects processors. The PE100 is a pocket sized, desk top unit which contains everything the guitarist needs tightly wrapped up within a small sleek shell. A full range of amp models, a myriad of effects and stompboxes, a precision tuner, drum patterns and metronomes.

It's dual output jacks make it ideal for connection to amp, hi-fi, headphones or direct to a mixer or computer for direct recording. Super easy to program, small enough to slip into your pocket and powered by a small DC power adapter or by battery. The PE100 is perfect for the guitarist on the go.

Main Features
1. 99 Factory presets and 99 user presets
2. There are 6 effect blocks containing 39 types of effects in PE100's effect Chain.

98 factory presets and 99 user presets
2 auto wah effects
10 Over drive and distortion effects
7 Amp models
11 Modulation effects
5 different delays
4 reverb types

3. Each effect block provides a different kind of effect.
4. The PE100 contains 40 drum patterns and 10 metronomes.
5. Tap tempo functionality: Tap tempo control for use with the drum machine, metronome and delay effects
6. The QUICK RECALL buttons A,B,C,D provide an easy way to instantly store and recall 4 of your favorite presets.
Press the TUNER button at any time to access the tuning function page. The tuner is set to A=440Hz as stock, rotate the VALUE control to change this calibration.

Connections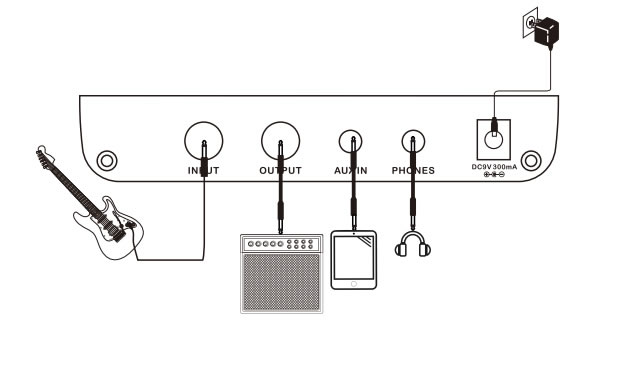 Specifications

Input Jack: 1/4" mono audio jack
Output Jack: 1/4" mono audio jack
Headphone out: 1/8" stereo audio jack
AUX IN: 1/8" stereo audio jack
Power requirements: AC adapter 9V DC,300mA
Dimensions: 137mm x 81mm x 32mm
Weight: 230g
Product Videos
Reviews