Product Overview
The Mooer Air P10 Plug Wireless Guitar System provides great compatibility for guitarists wherever they go. Based on the MOOER Micro series' design language, Air Plug is compact, dependable and intuitive. Up to 90 feet transfer range and 5-hour long battery life, make it reliably portable. With easy-to-use controls, low latency, Air Plug offers stable performance wherever to be placed on the amplifier, pedalboard.
Features:
· 4 individual channels, allows 4 gears work simultaneously
· Ranges up to 45 feet
· Less than 5ms latency
· Power Saving mode.
· 5-hours long battery life
· Suitable for electric guitar, acoustic instruments with piezoelectric pickups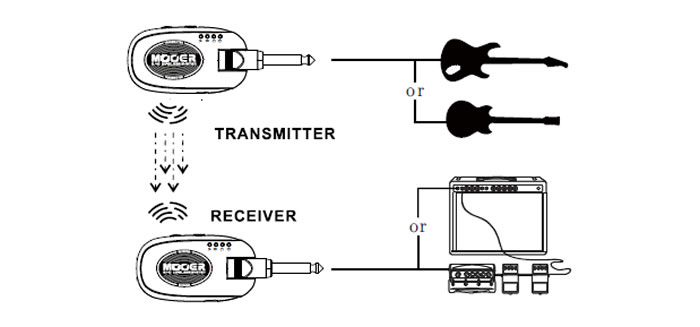 1.P10 TRANSMITTER into your instrument. P10 RECEIVER into the input of amplifier or stompbox.
2.Turn on TRANSMITTER and RECEIVER.
3.The default channel is Channel A. Please set the TRANSMITTER and RECEIVER to the same channel.
4.LED light will stay green when the connection is stable. LED light blinks when the connection is weak, please change current channel or check electromagnetic interference to prevent from signal interruption.
5.Please utilize the USB cable comes with the unit to charge.
Specifications:
Effective Distance: 15 meters
Latency: Less than 5ms
Frequency Response: 20-20K Hz,+1dB/-3dB
Total Harmonic Distortion: <0.05%(1K Hz @-10dbFS)
Input Dynamic: >103dB
Frequency Band: 2.4G Hz ISM Worldwide
Working Temperature: -10 C to 50 C
Bit Deep: 24bit
Sample Rate: 48KHz
Dimension: 117mm(D)*42mm(W)*30mm(H)
Weight: 50g
Accessories: USB cable,Ownerʹs Manual、Portable Package
Product Videos
Reviews