Product Overview
TC Electronic's Ditto X4 Looper Pedal can run two loops simultaneously for intricate arrangements and composition possibilities. Each loop can hold up to 5 minutes of music and has its own level control and footswitch for operation. Both loops can be on simultaneously or switched between for a "verse-chorus" arrangement. A global Stop footswitch stops both loops. Adding a little more spice to your loops is as simple as stepping on the FX footswitch, engaging one of seven loop-friendly effects ranging from simple fades to all out Reverse.

Loop Effects
Choose from seven effects to enhance your loops in real time.

Loop Decay
Loop decay determines how fast old layers fade away, so you can keep you composition evolving at your own pace. If you don't want your loops to fade, simply set it fully clockwise.

Computer Connectivity
If you save a loop to the Ditto X4's on-board storage, you can export it to your DAW over USB to create compositions and song arrangements. It also works in the other direction, so you can take audio from your computer and store it inside the pedal for looping later.

MIDI Sync
Using the MIDI in/thru jacks, you can easily sync your loops with an external MIDI clock or controller.

Dual Inputs/Outputs
Operate your loops in stereo or plug in multiple instruments to double your creative options.

DIP Switch Customization
Using the DIP switches on the rear of the pedal, you can customize the functionality of the footswitches and engage/disengage the internal I/O buffer so you can customize the Ditto X4 to your liking.

Still Simple, Still Mind-Blowing
Even though Ditto X4 Looper basically offers endless creative possibilities, it still honors the core principle of TC Electronic's famed Ditto Looper. Simplicity! No drum-machines, no deep-editing menus or other time consuming tech-nonsense, only immediate unfiltered fun. So all you have to think about is - What will you create today?

Loop De Loop
If you thought that having one loop track was fun, then wait until you try running two interweaving and perfectly synced tracks at once. It will blow you away! Run a 4 bar percussive beat in loop 1 and a 16 bar chord progression with endless layers of ambient textures underneath in loop 2, or simply have your verse and chorus set up in each track and seamlessly switch between them for an unforgettable on-stage performance. You're the aural architect, and with Ditto X4 Looper you'll finally have the tool to realize the sonic wonders inside your head.

On The Fly
Imagine this: You got a cool dual loop going, and you can see the crowd is loving it. Out of the blue you engage the Hold FX for a cool rhythmic stutter. The crowd is baffled. Then you reverse your loop and throw them into an otherworldly trance. Finally you hit that Tape Stop FX for a unique jaw-dropping finish to your piece. You look up. The crowd is dumbstruck and smoke is rising from their heads, 'cause you literally just blew their minds! This scenario (which may or may not have happened) just scratches the surface of what can be done with the 7 on-board FX. Now throw loop decay and external MIDI control into the mix, and you have a pedal that will continue to inspire you for years to come.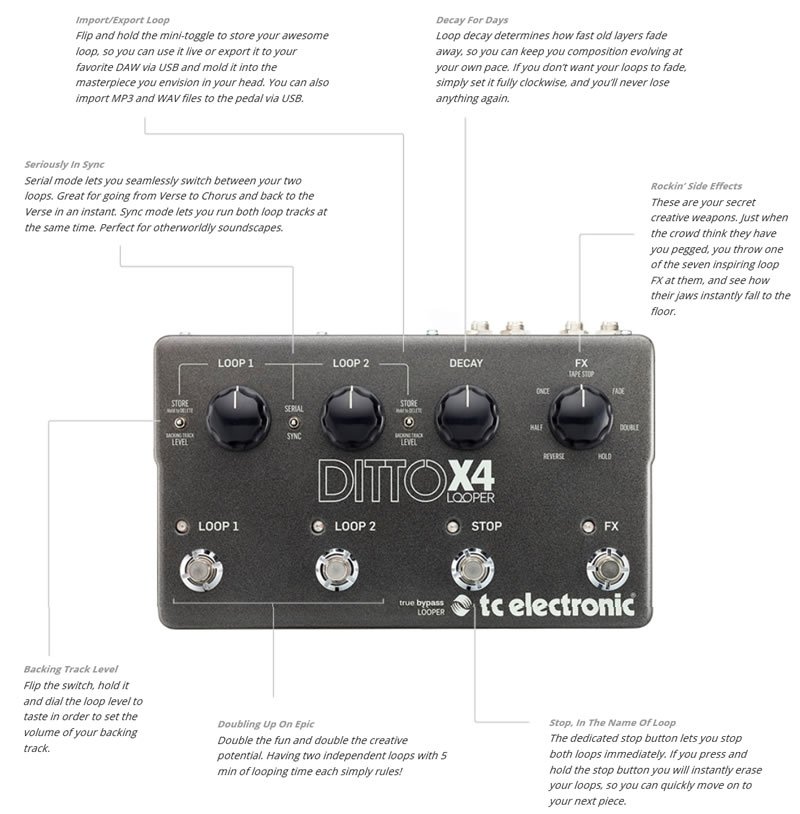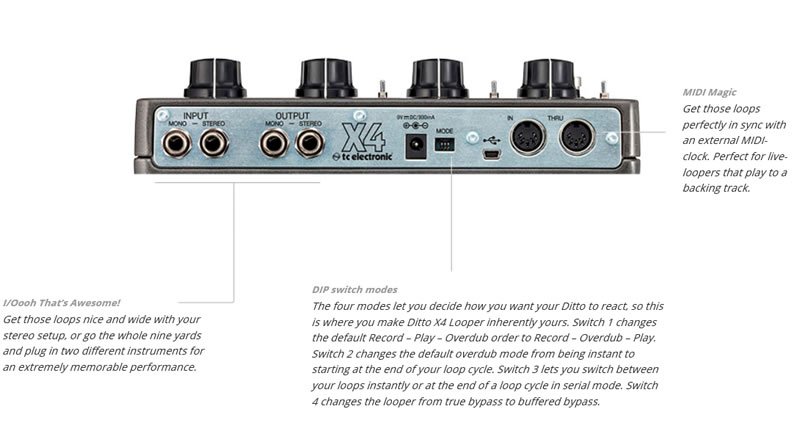 Product Videos
Reviews