Product Overview
The Tonebone Classic Trimode is Radial's most progressive pedal ever! Trimode gives you instant access to superb clean, rhythm and lead tones without tap dancing. And tone you will receive. Based on the heritage of America's finest tube amplifiers, the Trimode delivers five generations of tone from the slight overdrive of early rock & roll to blistering power tones of today's high gain amps. Following the award-winning Tonebone Classic, the Trimode combines the warmth and even harmonics of a 12AX7 tube with Radial's unique dual-stage drive for the natural dynamics and response of a vintage tube amp.
True bypass clean mode
Dynamic rhythm distortion mode
Sustaining lead distortion mode
12AX7 tube for natural overdrive tone
Effects loop on lead solo channel
As the name implies, Trimode has three settings: 'True Bypass Clean Mode' for the natural tone of your guitar - direct to your amp; 'Rhythm Mode' with input drive, output gain and Radial's unique Interstage™ drive to precision-tune the mayhem you are about to unleash; and 'Solo Mode' with its own input drive, output gain, and mid boost for days of sustain. Trimode goes even further with a built-in effects loop on the solo channel that lets you instantly engage a delay or pedal chain with a single foot action.

Trimode: 3 modes, huge tone and amazing dynamics – finally, a pedal that sounds and feels like a real tube amp!

Trimode Setup:
Imagine having a second 2-channel amp in front of your guitar amp. How cool would it be to have individual input drive and output level control on each channel so that you could dial in the perfect amount of grit? Now imagine being able to adjust the mid boost separately on your solo channel to increase sustain for those violin type solo tones. How about automatically introducing a delay as soon as you go from crunchy rhythm tones to Star Spangled solos? This is Trimode.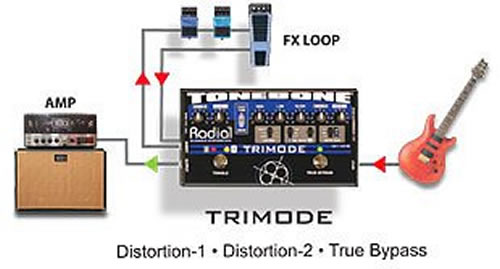 Plug into true-bypass direct to your amp. Hit channel-1 and you get heart pounding rhythm. Toggle to channel-2 and open up to a world where you get the feel and dynamics of a tube amp on 10. With Trimode you get separate drive controls, mid boost and an overall EQ that really works. 'Plug & play' easy to use, flexible and tremendous in scope, Trimode is likely the best distortion pedal ever made.
Reviews